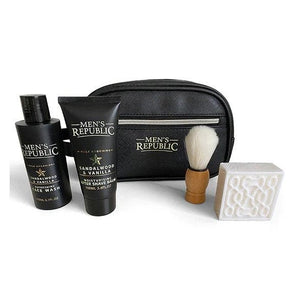 Men's Republic Grooming Kit - 4pc Cleansing in Toiletry Bag
$6990

$69.90
Tax included.
---
---
Men's Republic offers this range of fresh cleansing products for men, packed in a stylish branded leatherette travel bag. Maximum capacity with 2 zip pockets and a handle.
It's size and practicality is ideal for keeping the essentials organized and secure during your travels.
The kit contains:
• 150ml face wash
• 100ml tube after shave balm
• 100g bath soap
• Shaving brush
This superb grooming kit is the perfect gift for the man about town.
Colour: Black
Product Length (cm): 25
Product Width (cm): 10.5
Product Height (cm): 15