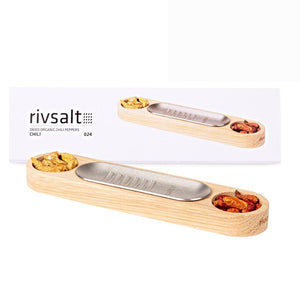 RIVSALT Chilli - Premium Sun Dried Chilli
$8400

$84.00
Tax included.
---
---
RIVSALT CHILLI is all about flavour and experience. So, creating our own chilli product felt natural. A perfectly shaped grater in stainless steel, a holder in oak wood and the best possible chilli pepper selection we could find. Another Scandinavian gastronomic experience by RIVSALT.
RIVSALT CHILLI includes a stainless steel grater, natural wood stand, and dried organic chilli peppers in two different variants. Packed in a sleek gift box.
Box dimensions:228 x 62 x 26 mm Unit weight:230g Food weight:4g
Designed in Sweden.
How to look after your Rivsalt grater:
Your Rivsalt grater is comparable to a quality chef's knife. To keep it sharp, shiny and rust-free wash your Rivsalt grater regularly by hand, using a mild dishwashing liquid and water. Use a brush to remove loose salt and dirt. After washing, rinse with water and dry thoroughly with a towel. The Rivsalt grater should not be placed in the dishwasher, as doing so could damage the sharp edges. Please be aware that during hot weather and high humidity it is necessary to care a little extra for your Rivsalt and clean your grater more regularly.